Breed Showing
Breed Showing is the arena where the future top specimens of the breed are shown and where potential buyers can see the best of the best, ask questions of the breeders and make informed decisions about which blood-lines they wish to purchase, be it for a family pet or for their own breeding programme.

Much of the information held in the section on Getting a puppy is relevant to Breed Showing, and these notes continue on from there.
Breeding:
You will now need to choose a stud dog that is compatible with your brood bitch, or vice versa if you have the stud dog.
Talk to the breeder of your bitch and watch the breed shows to see what the dog is producing and the type.
Both the dog and bitch should be hip and elbow x-rayed.
The owner of the stud dog will require you to fulfil certain obligations: blood test the bitch, swab for infections, etc, but these will be discussed at the time.
The mating will take place with either one or two visits as dictated by the stud dog owner.
And then there are the FORMS required by the NZKC.
Kennel Name: You will need to register a kennel name.
Mating and whelping form: To record the dates of these events.
Registration form: To register the puppies under your kennel name.
To breed a healthy litter is costly. The stud fee, the vet visits, registration fees, feeding the bitch, feeding the litter, vaccinations, and worming all add up to quite a considerable investment. But happy, healthy, well covered (body condition) and clean puppies will encourage buyers to come back and have another look at your litter.
Remember first impressions do count and the condition you keep your own dogs in may influence puppy buyers.
Birth of the litter, Champagne all round!
Raising of the pups and now to see all those prospective puppy buyers.
Isn't this where you came in two years ago?
"SERIOUS STUFF" Yes it is, but you are now one of the guardians of this wonderful breed and this responsibility should be taken seriously.
But at the end of the day, all of the above means nothing, if your dog means nothing to you.
It's nice to win in the breed ring or competitive arena, but ask anyone at the show and they will all tell you that they are still taking home the best dog there.
Agility
So Tell Me, What is this Dog Agility All About Then?
Dog Agility is a Dog Sport, which has been around in New Zealand since the mid to late 1980's and continues to get bigger and bigger and more and more popular.
Dog Agility as a sport was founded in the United Kingdom in the early 1980's. It was introduced into Australia in 1984 and into the USA in 1992.
Here in New Zealand the first clubs started off in training Agility in 1985.
Locally in Christchurch Agility got introduced almost 2 years before that. I understand that Diane Webb a keen Obedience competitor and member of a then very strong Weimaraner Club, had seen a video of Agility in England. She and her husband Les, decided to get her club to try Agility and as a result, put together a display team. They knocked up some equipment using things like 44 gallon barrels with holes punched into them to form rigged jumps. They then put on a display at the Canterbury A & P show. Soon the display team grew and included friends from the Obedience world including several from SIGSL including Blue Gardiner, Graham Grether, Des Philpot, Howard Smith and Darren Evans. The displays were popular and in demand and featured at events like the 1985 NZKC Jubilee show at the Riccarton Race Course.
Dog Agility is a sport that almost anyone can compete in at any level they wish and with almost any breed of dog. The German Shepherd as a breed is an ideal dog for the sport of Agility. It's generally confident, fast, nimble on its feet and a very quick learner.
Agility is quite a simple sport. It is based on a variation of the equestrian world's show jumping. The object is to run around a course designed by the judge within a set time. The course is set using up to 20 obstacles, which include jumps, weaves, tunnels, hoops and climbing equipment. The course will vary in degree of difficulty as you move through the four grades or levels that make up the sport.
The object is to get your dog around the course as fast as you can without having any points deducted through knocking rails off jumps, baulking at any equipment, not having the dog touch the contact zones on the climbing equipment or being outside the time set by the judge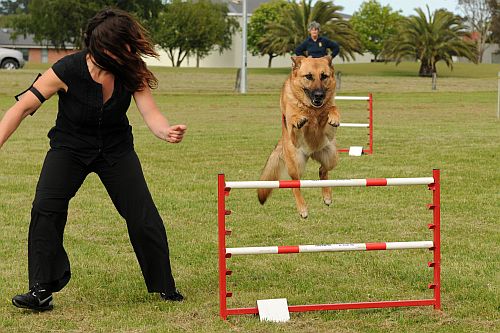 One of our members competing at a recent championship agility event
If you achieve all that you are awarded a clear round certificate by the judge at prize giving. (This little certificate is what motivates 80-90% of those who play the sport.) If you are lucky enough to have one of the fastest 5 dogs with a clear round you will also receive a ribbon and often a prize or trophy as well as the c/r certificate.
SIGSL as a club, have in the past been privileged to have dogs and handlers in the club that have reached the very top ranks of the sport. These included the pioneers of the sport in the South Island, like Blue Gardiner & "Bridget" and Allan Drewitt & "Rheinick". Not far behind them and also to do outstandingly well came Andy Anderson and his dogs "Alf" & "Bonita", Blue again with "Pumpkin" and Graham with "Xenteh". During the mid 1990's Shane Prendergast & "Lace" and Chris Pay & "Chrizzy" blitzed the Agility world winning many competitions and trophies and representing our club at local competitions and our region at National competitions.
Anyone who ever saw any of these dogs being run or training, or who saw a take off of the sport on Television called "Tux Wonder Dogs" were easily left with the impression that it looked pretty exciting, and simple to do. As a result many were attracted to the sport, which resulted in GSD's being well represented throughout all classes which then became beneficial to the breed and the club.
It did look easy alright, BUT. It was one thing to have seen "wonder Dogs" on TV and have thought, "I can do that". Dogs like Lace, Chrizzy, Xenteh, Alf & co, did make it look so natural, effortless and so easy. But in reality, it takes time, dedication and lots of training to get you and your dog to a point where you can compete at an Agility show.
Agility is very much one of those sports that rewards what you put into it.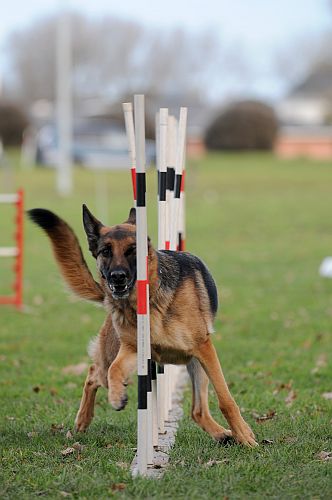 Doing the weave German Shepherd style
To get a dog to the level required to compete in Agility takes just as much time, effort, training and dedication as it does to train and keep fit a dog for the specialist breed ring or to compete successfully in the dog obedience ring.
Agility training now days, has changed completely from when the sport started. Gone are slip chains, yelling at the dog for getting it wrong and the way we often used to force the dog to accomplish whatever it was being trained to do through negative consequences.
The modern training methods are reward based and positive. They use clickers, food or toys for rewards and lots of praise when things go right.
Now you can take your dog (without any previous experience) to a club or private instructor and it is possible to have that dog fully trained and ready to compete in 6 weeks (provided the homework is done of course.)
Very little Agility training is done on the lead these days. This means that for a new dog all that is required is for that dog to came back to the handler when called and be a food or toy (e.g. Ball) orientated dog.
New Zealand Kennel Club (NZKC) rules prohibit dogs under 18 months from being put over jumping obstacles or contact equipment. The reason for this is that bones are soft and still growing and joints and muscles if damaged or injured at that stage of life will likely lead to a lifetime of problems.
In some cases dogs are still not mature enough for the impacts of jumping and landing at 18 months. This is something you, your instructor, breeder or vet will have to assess.
These days Agility training starts from 4-6 months of age. Training uses subtle almost back to front methods. The contacts are taught, as is the weave, tunnels, left side right side handling, and the dog is taught to run through the hurdle uprights. Then when the dog is old enough and ready the transaction is simple and the gear is raised to the required heights usually without any or few problems.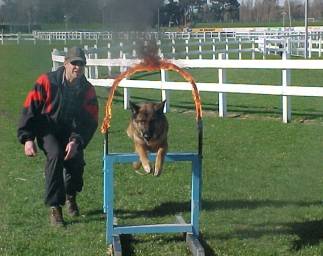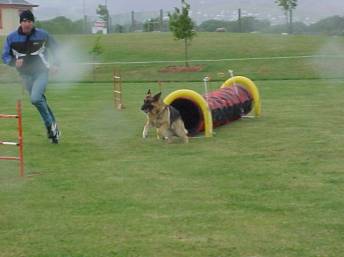 Zara going through a hoop of fire Bronson going through tunnel
Some people like the assurance of having their dog x-rayed for sound hips and elbows before they begin Agility training. Most vets will expect a dog with hips bad enough to effect it doing Agility will have had the problem show up by the time it is 18 months old.
An Agility round will take around 60 seconds of full on effort to complete. It does help to warm up yourself and your dog, as any athlete would do and also to warm down yourself and your dog once you have finished.
An overweight and/or unfit dog will struggle and probably not enjoy Agility. Agility dogs are like athletes and need to be kept fit and fed a high performance diet.
Some of the top handlers follow a timetable around their actual show dates where they reach peaks in training prior to a show and taper off after a show. Likewise the diet will change from a maintenance diet to a high performance diet leading up to a show.
Agility shows are held regularly and you can find at least two and sometimes more shows a month somewhere in the South Island. A show away from home is always a good weekend and it's not long before other Agility people start offering a bed, a couch or a floor to sleep on and some long lasting friendships develop.
As I mentioned there are four Agility classes-Starters, Novice, Intermediate and Senior.
Everyone is able to compete in two classes.
Everyone must start at Starters and Novice level.
These two classes are similar and relatively straightforward to run with hurdles, tunnels and weaves to negotiate. Novice has the same equipment but introduces contact equipment (A-Frame, Dog Walk and crossover).
You remain in Starters and Novice gaining more and more experience until you win two first placings. Once that happens you are able to run Novice and Intermediate. Intermediate level is usually a little more technically difficult with a few traps to try and catch either the handler or the dog out. It introduces the Sea-saw and has up to 20 obstacles.
By this stage you and your dog are really working as a team and anticipating each other's moves and commands. That's where, "It all looks so easy" comes in, and by this time it is usually at least 3 or 4 years since you and your dog started.
There are different types of Agility shows, as there are different breed and obedience shows.
The very top level is the Championship All Breeds Agility Shows. This is structured toward the dog competing for the Agility Champion title once they get into the Senior ranks. Handlers must be financial members of the NZKC and a recognised dog club to enter these shows. The show schedule is advertised in the NZKC monthly magazine (The Kennel Gazette) usually two months prior to the show. It is them a matter of sending a completed entry form (taken from the magazine itself or obtained from the NZKC) and sending it to the host clubs show secretary before entries close. (If you are in any doubt about filling out an entry form ask your instructor or the club captain for assistance). Entry fees are around $4.50 -$5.00 per class.
The next level down is the All Breeds Open Class show. There are not many of these now days as most clubs run Champ shows. Open shows run the four standard classes and you enter as per the Champ show as a NZKC member.
The next level down is the All Breed Ribbon Trial show. Locally there is always a ribbon trial held each month by the Canterbury Canine Agility Training Society (Canterbury C.A.T.S). You don't have to be a member of C.C.A.T.S or the N.Z.K.C. to enter. Most the shows are on a Saturday morning from 9.00am and C.C.A.T.S send flyers to SIGSL and other clubs advertising an up coming show. (Flyers are always left on the club captain's table). All you have to do is turn up at the venue on the day at the given time and pay $2-$3 per class to enter.
Specialist breed clubs (such as SIGSL) have a show structure below the All breeds level. SIGSL and the Auckland Provincial German Shepherd Dog League are the only two specialist clubs in the country left still training Agility. These shows are open only to dogs of that clubs particular breed. Specialist clubs can hold Ribbon Trial, Open or Championship shows and will offer all four classes on the day. Once again you don't have to be a member of NZKC to enter a Ribbon Trial. Wins at Specialist club shows are not recognised at All Breeds shows. Unfortunately this peculiarity can see a dog being a Specialist Breed Champ Senior winner still running All Breed Ribbon Trials at Starters.
SISGL usually have Agility Ribbon Trials at the March and August breed shows and a Champ show at the November Champ breed show.
Most shows are held on grass surfaces so before you go too far it pays, for the reasons outlined to get some footwear with some traction. Most go for the Warehouse $25.00 touch football shoes.
When you are ready to start competing, get to the show early. Before your particular event starts you will have an opportunity (up to about 15 minutes) to walk the course and study how it flows and see how it will suit your dog or otherwise. This time gives you the opportunity to prepare some contingencies or "what if...plans" if things don't go the way you thought they would once your run starts.
Other things to aim for in Agility are the Agility Dog Excellent (ADX) title. An AD Trial is held in conjunction with an approved Agility show (about ten trials throughout the South Island in any year). You enter like any other class. Once you have four clear rounds from an AD Trial the ADX title is applied for from the N.Z.K.C and added as a suffix to the dogs kennel name.
The National Dog show held at the NZKC headquarters in Porirua each September, is becoming a glamorous Agility show to compete at. It is run alongside the four day All Breeds Champ breed show.
The top Agility show in the country to compete at is the National Dog Training Assembly (NDTA) held at Labour weekend in October each year. This show is basically the NZ Champs of Agility, Obedience and Trailing. All the who's who attend and an interzone team Obedience and Agility challenge is a feature of this show. It is held at a different location each year. Most who attend start saving as soon as they get home from the NDTA they have just been to. The competition is hard and serious but the social side is also hard and fun.
SIGSL has been a member of the National Agility Link Association (NALA) since 1994. Over 50 clubs and 400 individuals take part in this competition by correspondence. Each month each club sets up the course of the month and runs it. The results rank the top individuals and each clubs top three runs rank each club. SIGSL being a small club and the only Specialist club in this competition have done very well in the club competition and have previously had top 20 individuals. SIGSL use this competition as its Agility trophy night and generally hold it on the second Wednesday of each month, which anyone is able to have a run in.
The best shows to go to are our own club shows and the November show in particular. You will need to be a NZKC member. Look out for the show schedule in the August or September NZKC gazette.
I know most of us Agilitiers in the club have learnt to play the sport and learnt how the system works the hard way and probably take it for granted.
If anyone reading this wants to know anything more or have anything explained in more detail, please make yourself known or approach any one of us at training on a club night. One thing which we would all love to see with a passion, is the GSD numbers competing in Agility, with SIGSL members handling them, swell.
Ps...Enjoy your Agility and your dog but be warned, it can become one of those compulsive habits.
Obedience
S.I.G.S.L. OBEDIENCE SCENE
SIGSL offers obedience training from the very basic manners necessary for life in the average kiwi household, to competitive obedience at all levels.
We are constantly exploring ways to improve the quality and range of training we offer to members. We have recently introduced the concept of contracting external instructors to take specific classes as the need arises. This has the advantage of bringing in new ideas and expertise to the club and presents an ideal training opportunity for our small band of dedicated instructors.
Obedience at SIGSL starts with the Domestic class, and dogs and their handler's progress from this class to obedience, agility or show training classes, depending on where their specific interest lies.
In the domestic class we cover the four basic commands which are sit, down, come and wait which are all very important commands to teach your puppy to gain control and have a well mannered puppy out in the public. Other areas that are covered throughout the course are toilet training, chewing, not jumping, separation anxiety, digging and of course the most important "how to be a leader" to your puppy. There are four very basic ways in doing this. Food, Leading the Pack from the Territory, Security and leaving your dog.
1) Food — As the pack leader, you should eat first then your dog. Make sure that your dog sits and waits while putting the bowl down. Always give a release command before you let the dog start to eat.
2) Leading the Pack from the Territory — As the pack leader when going for a walk you must lead the puppy / dog not the other way round. To do this you need to be able get your puppy / dog to heel at your side on a loose lead, which you can be taught at the club.
3) Security — As the pack leader you must decide who is and isn't coming onto your territory i.e. your property. This can be done if your dog is barking at someone at the front door you can say "good dog", then call it into another room or send to a mat while you let the person into your house, let the dog back into the room to investigate the person for a minute or two then make it lie down.
4) Leaving your dog — As the pack leader you have the right to come and go as you please, be it from your property, car, or leaving your dog eg outside a shop. Do not make a fuss over the dog before leaving it or on returning home, ignore for 10 to 15 minutes. This does a couple of things, first it exerts you as pack leader and secondly it aids in helping a dog to not get separation anxiety which is very common in German Shepherds.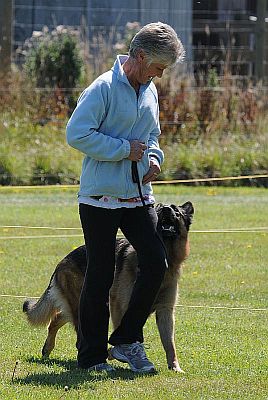 River doing Novice heelwork
The puppy agility is a very popular choice, however many handlers opt to continue with their obedience training in conjunction with agility.
At this stage they are introduced to competitive obedience exercises such as heel work, recalls and stays as well as puppy versions of some of the more advanced exercises such as sendaways and scent discrimination.
The more advanced obedience classes progress this training and introduce the handlers and dogs to formal obedience, correct footwork, working in the ring, and eventually to competition, with the instructors on hand to help with warm ups, protocol and of course those competition nerves!!
SIGSL also participates in Match Days with other clubs, which again offers our upcoming obedience and agility handlers a chance to compete, meet and mix with other dog handlers at a similar stage in their training.
And for those who decide competitive obedience is for them, the instructors who are competing regularly are only too keen to introduce them to 'the circuit' which encompasses from Invercargill in the south, to Nelson and Blenheim in the north and is a very social and enjoyable sport.
We are gradually seeing a resurgence of numbers of German Shepherds at obedience competitions and it is very encouraging to see them featuring in the line ups also. We look forward to introducing more German Shepherds and their owners to obedience and offer support and encouragement to those who want to participate.
Tracking And Working Trials
This is not offered through our club at this point in time but if you are interested please ask and we can point you in the right direction

To attain the Working Trials Champion title for your dog you need to achieve: one CDX title and two UDX, WDX and TDX titles.

There are four qualifications within Trialling, in order:
CD (Companion Dog)
UD (Utility Dog)
WD (Working Dog) and
TD (Tracking Dog)
To give you a little insight within the areas to what you and your dog has to know:

A minimum score of 50% is required for a pass in all exercises, while a total of 75% of the total points available is needed for a title to be awarded.

If a score of 90% of the total points is obtained, then the relevant Excellent title is awarded, giving the corresponding titles of: CDX, UDX, WDX and TDX.

For more detailed and up to date information please go the New Zealand Kennel Club web site www.nzkc.org.nz go to About NZKC/Rules & Regulations/Dog Training Regulations.pdf file. (here)

To give you a little insight into the competition areas, the following tables outline the different activities and how the points are allocated towards the final mark:
CD / CDX
1

Temperament Test:

Handler standing at not less than five paces from the dog, a word or two can be used when the judge approaches.
15 Points
2

Heel free

from the start to a right turn, right turn, halt, about turn, left turn, halt, left turn and finish.
20 Points
3
A

recall

in a circle.
10 Points
4

Retrieve as in test A:

One command to send the dog out to retrieve dumbbell and one command from the present to heel at left side.
25 Points
5

Drop on recall

with a distance of 17 metres. The dog is to be dropped halfway within approximately three dog lengths. The dog must stay down for 10 seconds before returning to the handler.
15 Points
6

Stand Stay

1 minute facing away from the dog.
15 Points
7

Sit Stay

1 minute facing away from the dog.
15 Points
8

Down Stay

5 minutes with owner out of sight.
30 Points
9

Scent Discrimination:

9 cloths are placed in a round circle with one being the handlers. The dog has 90 seconds to complete this exercise from the time the handler gives the command. The handler must not talk while in the scent area and the dog must present the cloth sitting the front of the handler, handler takes the cloth and the dog returns to the handler's side.
30 Points

Total

175 Points
UD / UDX
1

Heel Free at Test B level

, which contains slow and fast pace.
25 Points
2

Send away drop and recall:

between 36–54 metres to a specific area using a natural marker.
25 Points
3

Clear Jump

retrieving a Dumbbell.
20 Points
4

Scale Wall

Jump.
20 Points
5

Long Jump

at four times the height of the dog.
20 Points
6

Down Stay

10 minutes with owner out of sight.
10 Points
7

Seek Back:

The dog at heel, while you hold the seek back article in your hand behind your back, heel with your dog until the judge tells you to drop the article while still heeling, then judge will call a right or left hand turn and heel for around 20 to 30 paces to about turn. The object of the exercise is to send the dog along the track that you heeled until the dog finds the article and turns it to the handler.
30 Points
8

Tracking:

A track that is ½ hour old, 600 to 800 metres long with a piece of cloth at the end of the track that the dog has to allocate. At this level the ground is flat. Track (190 Points) and Article (10 Points)
200 Points

Total

350 Points
WD / WDX
1

Control:

Heel Free at Test B level, which contains slow and fast pace (25 points) with the Clear Jump (20 points) and Long Jump (20 points) within the heel pattern.
65 Points
2

Sendaway

between 36–54 metres then a redirection to the right or left for a distance of 18 metres and drop with directed. Handler to recall the dog to sit in front of handler, and then finish with the dog sitting on the left side.
35 Points
3
10 min

Down Stay

with owner out of sight.
10 Points
4

Controlled Search:

The dog has to find four articles in 5 minutes in a 23x23 meter square. Articles to be no smaller than a matchbox and be unable to be seen by the handler from outside the square. The ground is to be fouled by several people walking across it in various directions just prior to the search exercise commencing.
20 Points
5

Tracking:

Tracks at this level are 1½ hours old and are laid on hill sides and can go through fences, hedges and gullies etc with an article on the track and an article at the end. Track (190 Points), First Article (15), Last Article (15)
220 Points

Total

350 Points
TD / TDX
1

Hard Surface Track:

This is done on a gravel road fifteen minutes old and has three legs of not less than 90 metres in length which includes two crossings from one side of the road to the other at right angles and is approximately 500 metres in total. The track should be laid between 300mm – 450 mm from the edge of the road. There are two articles, one article is placed on a leg of the track, and one at the end of the track, which the dog must indicate on. Article size is to be not smaller than 30x30mm. Track (110 Points) , Article (10 each - 20 total)
130 Points
2

Free Track:

This track is around 500 metres long with an article of 100 x 100mm placed at the end. The dog is to be taken to the start of the track and is set free to track by itself until the article is found and the dog brings it back to the handler. Track (90 Points) , Article (30 Points)
120 Points
3

Tracking:

Tracks at this level are three hours old and are laid on hill sides and can go through fences, hedges and gullies, etc with 2 articles on the track and a cloth at the end. Track (200 Points), Articles (15 each - 30 total), Last Article (20)
250 Points

Total

500 Points
---
Club Address: South Island German Shepherd League P.O. Box 2133 Christchurch
Club Captain's Cell: 022 140 6142
E-Mail: info@sigsl.org.nz