Getting a Puppy

So, you have decided that a German Shepherd is the dog for you
A good choice. You will have a life long friend and companion that will protect you and your family. In return, you will have a responsibility to feed and provide warm shelter for your dog
. (and don't forget local council registration).
You will have to make sure your fencing is adequate to stop your dog from roaming
If every thing is OK - it's off to see some puppies.
Before you visit any litters, try to have some idea what you want to do with your dog. Not just for the next 6 to 12 months, but more for your dog's entire life as this will affect the choices you have to make.
Do you want a male (dog) or a female (bitch)?
Do you want to try showing, obedience, agility or tracking?
Do you want to breed a litter yourself later on?
Even if you are not contemplating any competitive work with your dog, some training will be needed to integrate your puppy into your household and this is covered in the domestic pets class at club.
The following guidelines are designed to help the person who wants to buy a puppy for breeding purposes. However, all puppy buyers whether taking pick of the litter for showing, or the best puppy for obedience training or buying the last puppy left, will have the benefit of knowing that all puppies in the litter are bred and raised under the same conditions. That is: The parents are hip scored, the puppies are tattooed, fully vaccinated, wormed, registered etc. and if you are interested in breeding later on, the support for this is already in place.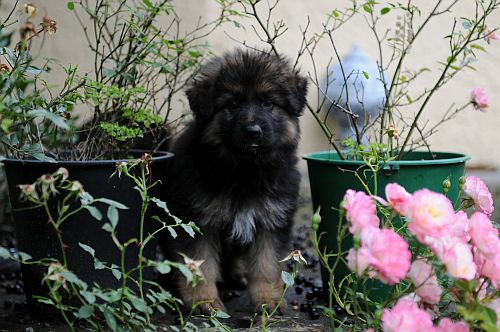 A very handsome 7 week old black and gold long coat male puppy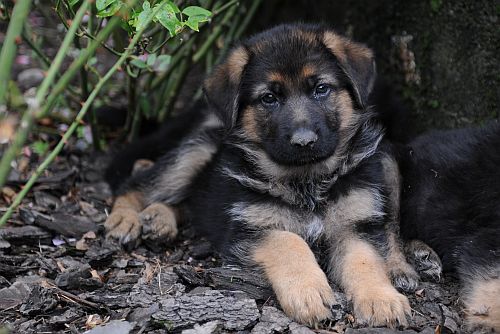 A sweet black and gold normal coat female puppy from the same litter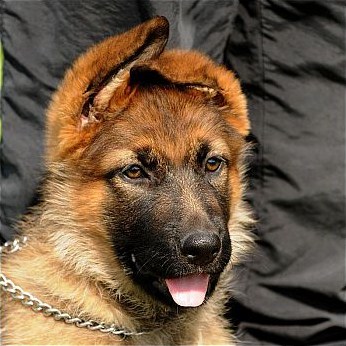 A very pretty sable coloured female puppy
One of the most important aspects of the German Shepherd dog is the TEMPERAMENT.
You should have contact with the mother of the puppies when you visit the litter. Some bitches can get a little possessive with their babies and you may have to see her away from her pups. Other bitches are happy for people to visit and take time out while you keep her babies amused.
The puppies father will probably be owned by someone else and could even be in the North Island or Australia as is sometimes the case. However, if he is a popular stud dog, there will be quite a few of his puppies around and going to one or two shows will give you an indication of what the father's temperament is like and that of his offspring.
Stud dog owners are more than happy to talk to you about their dog and for you to view the dog.
But do take note of all the usual advice: that puppies shouldn't be shy or nervous, they should be outgoing and playful.
Also take note of the breeders other dogs, how they behave and react.
There could be other offspring from previous litters for you to look at and this gives you a good indication of what the mother can produce.
HIP X-RAYING (and elbow x-raying):
Ask if both parents have been hip x-rayed (and most breeders now elbow x-ray).
There are several different scoring systems available to breeders in New Zealand but most subscribe to the Australian "A" stamp system. This gives the animal a pass or fail according to how good/bad the hips are. The German Shepherd Dog is prone to hip displaysia and by responsible breeders hip x-raying and only using stock with good hips, the incidence of hip displaysia has been reduced.
TATTOOING:
Breeders tattoo their puppies and register the number with the German Shepherd Dog Advisory Council. The puppies tattoo number is unique and is used to identify the puppy when:
1) The puppy is old enough to have a hip x-ray and the tattoo number is etched onto the plate to ensure the correct plate is submitted for the correct animal.
2) Identifies the dog if you wish to participate in any German Shepherd Dog Advisory Council activity e.g. breed survey.
3) Identifies your dog if he is lost and is taken in by the pound. The Council contacts the local GSDAC delegate and they can track the puppy through the breeder.
REGISTRATION:
Will the puppy be registered (with the New Zealand Kennel Club)?
If you want to show your puppy or breed later on, enter obedience, agility or trials, you will need to have your puppy registered.
The breeder will normally register every puppy in the litter unless there is a valid reason not to. All puppies are given a "kennel name" and this will be transferred into your name after you have purchased the puppy.
A set of pedigree papers should also be supplied along with feeding and exercise charts, vaccination certificates and worming timetable and any other information the breeder feels is necessary.
It is the breeders responsibility and cost to transfer the puppy's ownership into your name.
Breeders cannot charge extra for pedigree papers but can charge different prices for an unregistered and registered puppy.
COLOUR:
Both black and gold and sable coat colour is acceptable and this is a personal preference.
COAT:
The standard short coat is the only one that can be breed shown. Long coats can be entered into obedience, agility and trials competitions.
COMFORMATION:
The breeder will help with picking a puppy if you are interested in showing.
And after considering all the above, you will then probably go home with the puppy that has chosen YOU and you had no say in the matter.
Club Address: South Island German Shepherd League P.O. Box 2133 Christchurch
Club Captain's Cell: 022 140 6142
E-Mail: info@sigsl.org.nz